Imperial Rubies
One of the most beautiful ruby parures was originally owned by
Marie Alexandrovna, the Duchess of Edinburgh and Saxe-Coburg-
Gotha. Only daughter of Tsar Alexandar II of Russia, Marie
Alexandrovna was used to having the best of everything.
Her jewelry collection was superb and the bridal gifts from
her father were no exception.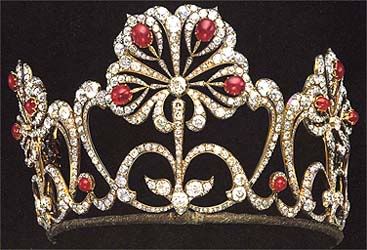 Created by Bolin and given in 1874, the year of her marriage to
Prince Alfred, the parure consisted of a lotus-motif tiara, a
devant de corsage and a sumptuous necklace. As for the other
pieces shown, I am personally not certain of the background of
the three separate pieces, pendant earrings and one lone cluster.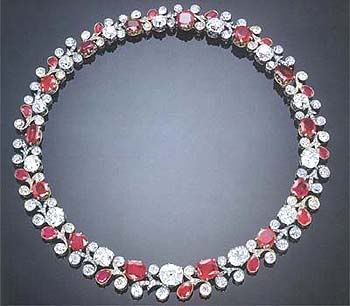 The Duchess of Edinburgh wore her rubies for the coronation
festivities of Tsar Nicholas II in 1896. Here she is
photographed wearing the devant de corsage and necklace.
There seems to have never been pictures of Marie Alexandrovna
wearing the tiara, although she had another ruby tiara in
her collection.
From the Duchess of Edinburgh, the parure went to her daughter
Alexandra, Princess of Hohenlohe-Langenburg. If anyone recalls
seeing pictures of the princess wearing her mother's jewels,
let me know because I have yet to see one. The last wearer of
the set was Princess Margarita of Greece, Princess Alexandra's
daughter-in-law. She wore the tiara to the 1962 wedding of
Juan Carlos of Spain and Sofia of Greece, as well as another
wedding in the 1970's (pictured). The princess died in 1981
and her jewels were auctioned off in 1989.