Emerald Dreams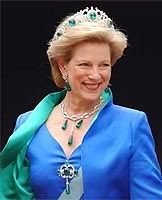 Another beautiful set of green are the royal emeralds of Greece.
The parure consists of a large diamond tiara set with five
cabachon emeralds, a pair of drop earrings, a corsage ornament
and five detachable pendant drops. Queen Anne-Marie wears the
pendant drops on a diamond chain that she inherited from her
grandmother, Queen Alexandrine of Denmark.
The emeralds most likely came to Greece with Queen Olga, born
a Russian grand duchess. I have not seen any image of the queen
wearing the emeralds in any setting, but Russia was a source of
emeralds and the Romanovs had many of the best gems in their
possession. So who was the first owner of the emeralds?


The first known wearer of the stones was Queen Elisabeth, born
a princess of Romania and daughter of the flamboyant Queen Marie.
In the first picture the queen wore a single cabachon emerald,
set between diamond leaves, as a bandeau. Later on it was redone
as another bandeau, this time with two other cabachons all set
upright on a row of collet diamonds. The tiara was reset yet
again, this time set between E-shaped diamond motifs in a
kokoshnik frame. E of course was for "Elisabeth", making it
and the matching corsage ornament a unique design.



When Queen Frederika, nee Hanover, wore the tiara, the border
had been removed and the jewel augmented. The queen often
wore it as a necklace, along with the diamond tiara of her
mother-in-law, Queen Sophia, nee Prussia. Queen Anne-Marie
has worn the emeralds many times - the Pahlavi celebrations
at Persepolis, Princess Alexandra of Sayn-Berleburg-Sayn's
wedding and Crown Prince Frederik of Denmark's wedding.