Ruby Red
It has been a long while since I last posted. Since it is still July,
I thought about posting some things about rubies. Here is what I posted at the Royal Jewels of the World Message Board.
The Greek ruby parure consists of a tiara in the naturalistic design
of olive fruits and leaves, a pair of pendant earrings, a necklace,
and two brooches.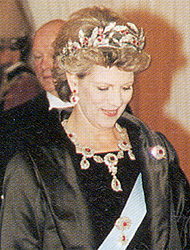 Personally I do not know which pieces made up the original parure.
From this postcard picture of Queen Olga, born a Grand Duchess of
Russia, we can see the tiara and a choker necklace. I think there
was a pendant brooch, but since I cannot locate the bigger picture,
I can only speculate.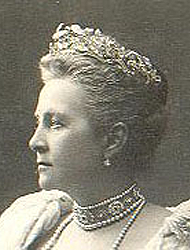 Bjarne Steen Jensen was kind enough to post a response to my initial
posting. Part of the parure may well have been a gift from King
George I to his wife, but given the financial state of the Greek
royal family at that time, the rest could have come from Russia.
I had thought the tiara altered, but Bjarne reassured us that it had
not. Rather, the tiara's leaves could be moved a little.
According to Bjarne, the rubies were left to Prince Nikolaos by Queen Olga. After his death, his widow, the former Grand Duchess Elena Vladimirovna, presented the parure to Queen Frederika. In turn the then dowager queen gifted the set to her newly married daughter-in-law, Queen Anne-Marie.
From Queen Frederika's picture we can see that the necklace has been
shortened. Two pendants are gone, and so are several links. The color
of the rubies is a dark pinkish red that can be most likely categorized
as the color of pigeon's blood. Personally I like rubies that are
bright red or a rich red like human blood, since I have never seen
the blood of a pigeon. As for point of origination, it is probably Burma.