My favorite tiara
The diamond and pearl tiara created by Musy for the Italian
queen Margherita is my favorite tiara. Probably the most
versatile of designs, it can be worn at least five or six
different ways. I've only seen images of Queen Margherita
wearing the tiara in its main form, which is quite grand.
When Princess Marie Jose of Belgium married Margherita's
grandson in 1930, she wore the tiara on her wedding day.
It is worn quite spread out here and must have been a
sight to behold. Later it gets worn conventionally
more towards the back of the crown.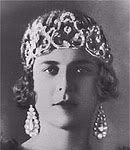 Two further illustrations of the tiara's versatility.
During the 1930's and 1940's tiaras were worn low on
the forehead. To the left is the tiara with just the
inner "spikes" and to the right is the outer frame
without pearls. Since I don't have the book on the
Savoy jewels (and not being a reader of Italian) I
can't tell you much about the jewel itself.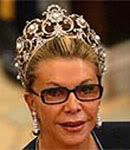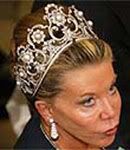 Many of you royal jewels diehards will be mutually
gritting your teeth at the sight of Marina Doria
wearing the grand tiara (this was at the 2004
Danish royal wedding, BTW). Sunglasses with tiara?
Oh, please. Personally I'm happy to see it's
still around, not sold like other pieces of
the Savoy jewels or languishing in a Roman
bank vault.