Cock-A-Leekie!
And no, I don't mean the Scottish chicken, leek and prune soup,
but rather a sighting of the Duchess of Cornwall wearing a "new"
brooch. Here she is wearing a rather large diamond and emerald
brooch with an emerald cabachon drop at the pre-opera reception
at the National Assembly of Wales in Cardiff on March 1, 2006.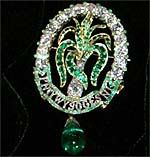 It turns out to be the Ladies of North Wales Brooch, given to
the future Queen Alexandra and later inherited by the late
Queen Mother. Several sharp fans of royal jewelry sniffed
out the tantalizing photos and details on the
GREMB
.
Queen Elizabeth the Queen Mother wore the brooch to
Prince Charles' investiture as the Prince of Wales in 1969.