Surprise(s) of the year?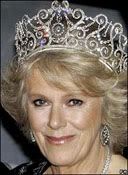 With 2005 coming to an end royal jewelry fans have been
treated to several surprises, namely from the House of
Windsor. The biggest surprise was the re-appearance,
after over half a century, of the Delhi Durbar Tiara on
the head of none other than Camilla, the Duchess of
Cornwall. during the Norwegian state visit to England.
It was last worn by the late Queen Mother on a State
visit to South Africa, only to be mothballed away,
leading to speculations of dismantling. During the
2001 exhibit at the Victoria & Albert Museum it
reappeared, with the provenance of the Queen Mother.
We were rapturious because a beautiful piece still
existed in the British Royal Family.
Another pleasant surprise was the appearance of the
Indian Ruby Tiara on the head of Her Majesty. For
a long time it was worn by the Queen Mother instead
of being turned over to her daughter, being one of
her three favorite tiaras. There are several royal
jewelry fans who feel that this tiara is prettier
in design than the Burmese Ruby Tiara.