Nobel Gala 2005 - 2nd Evening, Pt. 2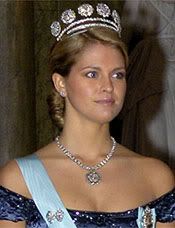 Crown Princess Victoria was more subdued on the second night,
wearing the tiara of gold and cut-steel, along with diamond
pendant earrings, a small diamond brooch and a diamond
bracelet.
Princess Madeleine looked beautiful with the Six Button Tiara
and the diamond necklace and pendant worn the previous night
by Princess Lillian, along with large diamond stud earrings
and a little bow brooch.
Princess Christina, Mrs. Magnuson, was also present for the
second evening, this time wearing the diamond fringe tiara
she had inherited from her godmother, Mrs Elsa Cedegren.
Photos by way of Tamara