Nobel Gala 2005 - 1st Evening, Pt. 2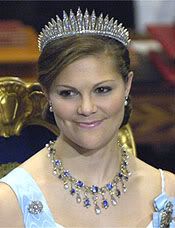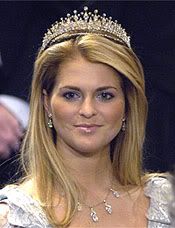 A radiant Crown Princess Victoria wore the Baden Fringe Tiara,
along with pearl pendant earrings, a diamond rose brooch and
the lovely antique sapphire and pearl necklace. I love the
gorgeous color of the sapphires and the overall design of
the necklace, which is appropriate for a young woman.
Princess Madeleine also turned heads, wearing her mother's
diamond fringe tiara, diamond pendant earrings and the
hanging drops from the Connaught Diamond Tiara as
pendants on a chain.
Princess Christina, Mrs. Magnuson, wore the tiara of four
diamond buttons.
Photos by way of Tamara