Nobel Gala 2005 - 1st Evening, Pt. 1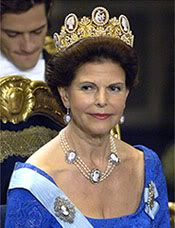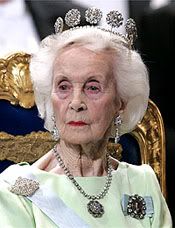 As usual the royal ladies of the House of Bernadotte did not
disappoint fans of royal jewelry. For the first evening of
the Nobel 2005 gala, Queen Silvia wore the full cameo parure
of the Empress Josephine. It consists of a tiara, necklace,
earrings, a brooch and a pair of bracelets.
The tiara is of cameos and pearls, set in yellow gold, whereas
the rest of the set have cameos set in diamonds. Perhaps the
parure was never complete in the first place?
Princess Lillian sparkled magnificiently wearing the tiara of
six diamond buttons, large diamond pendant earrings, a necklace
of collet diamonds with a pendant similar to the buttons, and
diamond brooch securing her sash.
It should be noted that a sharp-eyed royal jewelry fan discovered
that the six buttons, as well as the other four diamond buttons,
are not identical. Rather the four central buttons are the same,
while the side buttons are round in shape.
Photos by way of Tamara